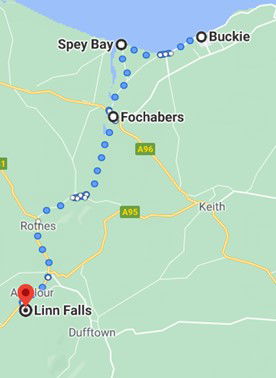 Scotia's Speyside Marathon Walk - Saturday 21st August 2021
On Saturday 21st August volunteers from Scotia Medical Group will under take a 26.2 mile walk along the Speyside way in Moray. Not only will they be walking 26.2 miles the team will also be carrying a basket stretcher with the average weight of an adult (61.5 Kg).
The team will start in Buckie and walk to Fochabers before heading south towards Aberlour following the beautiful Speyside Way route until branching off and finishing at Linn Falls.
This will be a challenge for the team due to the added weight and varied terrain of the route. We hope the weather will be on our side but no matter what season the Scottish weather throws at us we will complete the task on the day.
Please keep an eye on our social media platforms for regular updates before and during the walk. We are asking for sponsorship to help raise general funds to allow the charity to expand in its efforts to create a network of lifesavers.
If you would be kind enough to sponsor the team please ​
Click Here
​​​ for our sponsorship page.